"...the Premier took the Prime Minister to the woodshed."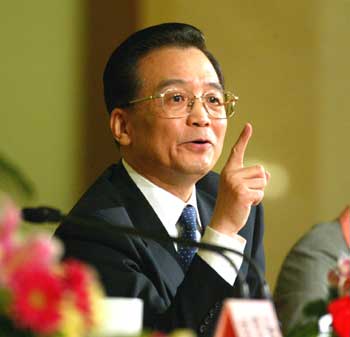 Not a good sign (
as told by the Globe and Mail
):
I

n an unprecedented diplomatic breach, Chinese Premier Wen Jiabao publicly upbraided Prime Minister Stephen Harper today for failing to visit China sooner.

"This is your first visit to China and this is the first meeting between the Chinese premier and a Canadian prime minister in almost five years," Mr. Wen told Mr. Harper through an interpreter.

Mr. Harper listened, stone-faced, in front of Canadian, Chinese and international media.

"Five years is too long a time for China-Canada relations and that's why there are comments in the media that your visit is one that should have taken place earlier."

Such a public scolding is unheard of in a meeting between heads of government.

"I agree with you Premier that five years is a long time," Mr. Harper said in response. "It's also been almost five years since we had yourself or President Hu in our country."

He went on to invite the Premier or President Hu Jintao to visit Canada "in the not too distant future."
Mixed feelings here: I consider Harper to be a sycophant to imperial power, and here he is being an incompetent sycophant. OTOH, this display by a displeased imperial power is chilling.
Image:
You'd better learn this face.