Gaza as a domestic Iranian issue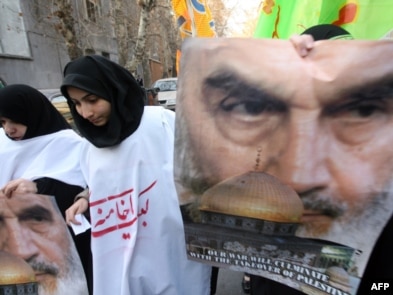 From
Radio Free Europe/Radio Liberty's Iran Report:
One man who telephoned RFE/RL's Radio Farda from Isfahan said that authorities "are really killing us" with their efforts to drive home the Gaza crisis and express solidarity with Hamas. "All the programs on Iran's television channels, from channel one to channel seven, it's all about the people of Gaza and support for Hamas," the man said. "Why is it like this in Iran? Why are we caring so much about Gaza? Why we don't care about ourselves?"

A Tehran-based journalist, who spoke anonymously due to what he described as the "sensitivity" of the issue, told RFE/RL that people in Iran are far from indifferent to the deaths of civilians in conflicts. Many people think the international response in the Gaza crisis has been insufficient, he noted.

But, he said, some also believe the government is exploiting the crisis to divert domestic attention from Iran's worsening economic situation, including spiraling inflation and growing unemployment.

Another recent caller to Radio Farda claimed "the mullahs" use Palestine and other Middle East flashpoints for their own political ends.

"They've created a stick out of Palestine to give a response to all of the people's questions and demands -- whoever says something will be [silenced]," the caller said. "Otherwise we're a country like other countries, we should mind our own business and solve our own problems. Has there ever been a president who has asked, 'How's our country doing regarding issues like health, electricity, unemployment, poverty?'.... All they speak about is Palestine and Lebanon."

See also the comments to the story.
Image:
Anti-Israel demo in Tehran.
Labels: Gaza, History of Islamic Civilization HIST 3805, Iran, Israel/Palestine, Middle East